I used to live in a room in an apartment in Beijing with my boyfriend and our cat. Like many young people in Chinese cities, high housing prices and limited income meant we had to share our living space with others. Due to limited space, we faced the problem of needing an additional table as the existing one was not enough for two people, but a new table would take up the space of our cat tree. We needed to find a solution that would satisfy both us and our cat.
Therefore, we decided to make a table that could be shared by both us and our cat.
'Cats and us and our common home'
In 2019, the total number of cat owners in China reached 24.51 million, a rapidly growing population that includes many of my friends. To learn more about the dynamics between cat owners and their pets, I created an online survey titled 'Cats and Us and Our Common Home'.
I received a total of 128 answers, and my findings are as follows:
1.
The majority of young people either live alone or as couples, and many of them share their living space with a cat. Most of them live in relatively small spaces such as one-bedroom flats or single rooms (55.4%).
2. 
Cats tend to spend most of their time in the bedroom (84.4%).
3.
Most cats have their own cat trees (84.4%).
4.
The table is the most popular spot for cats to jump on and off (75.8%).
5.
Many cats often interact with their owners while they are sitting at the table (43.8%).
These findings show that most young urban cat owners face similar challenges to us: limited space in rented accommodation, where furniture like cat trees can take up a lot of valuable room. The table we designed may be a great solution to this problem.

What needs should this table meet for us and our cats?
In addition to the needs mentioned in the picture above, I have several additional features that I would like the table to have:
1. Lightweight and affordable:
 Since many young people have limited budgets and may move frequently, a lightweight and cost-effective table would be ideal.
2. Sustainable:
 It is important for us to create a table that is eco-friendly, which includes using materials that are sustainable and minimizing the use of plastic and wood.
I am really interested in Nintendo Labo and their use of corrugated cardboard to create different objects. The idea of using simple materials and clever assembly methods to create something functional is very appealing to me. That's why we decided to use corrugated cardboard to create the support structure for our table.
Corrugated cardboard is readily available, easy to work with, and is also lightweight, affordable, and eco-friendly.
The only concern we had was whether or not it would be strong enough to support the weight of the table, so we spent a lot of time brainstorming the best way to construct it.
After experimenting with two different forms of construction, we finally settled on the one more suitable for our table (the one on the left in the pic below).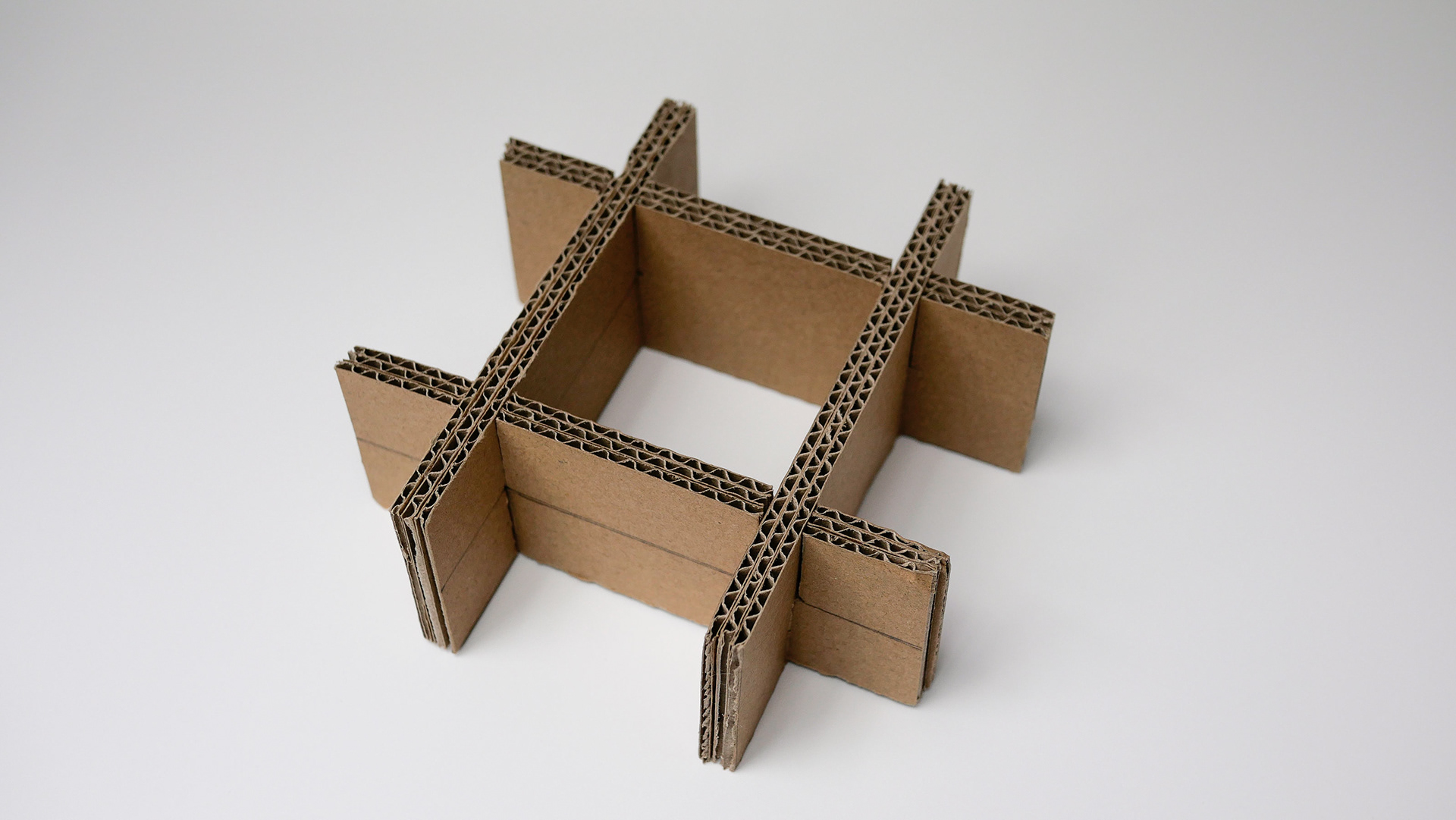 As the initial problem we faced was that the table would crowd the space of the cat tree, when considering its function and shape, we took
'table + cat tree'
 as the origin of the whole idea and slowly developed the final shape of the Cat Mountain Table.
We wanted to create a table that broke away from the typical straight, four-legged design and instead had a more organic, curved shape that evoked a natural feeling, like a mountain. This was because we wanted to add some diversity and uniqueness to our living space, as modern apartments often gave a homogeneous and uniform feeling. Just as we appreciated the natural, free-spirited nature of our cat, we wanted our table to embody a similar sense of freedom and unpredictability. In the end, the unconventional design of the Cat Mountain Table reflected our desire.
We incorporated two tunnels into the Cat Mountain Table, allowing our cat to feel secure as it can easily squeeze itself into them. To further enhance the natural feel, we decided to use translucent frosted glass for the tabletop and cut a hole in it. This way, our cat can freely pass through the hole, and we can interact with it through the glass while we work.
The process we implemented the design is as follows:
4. Presentation prototype
We started by creating a detailed exploded-view drawing of the support, dividing it into two parts, 'beam' and 'pillar', to make it easier for us to assemble it later on.
We picked 8mm thick 3-ply corrugated cardboard and used lasers to cut the supporting components we needed from large sheets of cardboard. We opted to 3D print the bottom of the table's tunnel, even though it was an expensive choice. However, we knew we could reduce costs through injection molding and mass production in the future. Lastly, we had a custom frosted glass tabletop made as mentioned earlier.
We made a 1:4 scale model. Please hover your mouse over each photo to see what they are.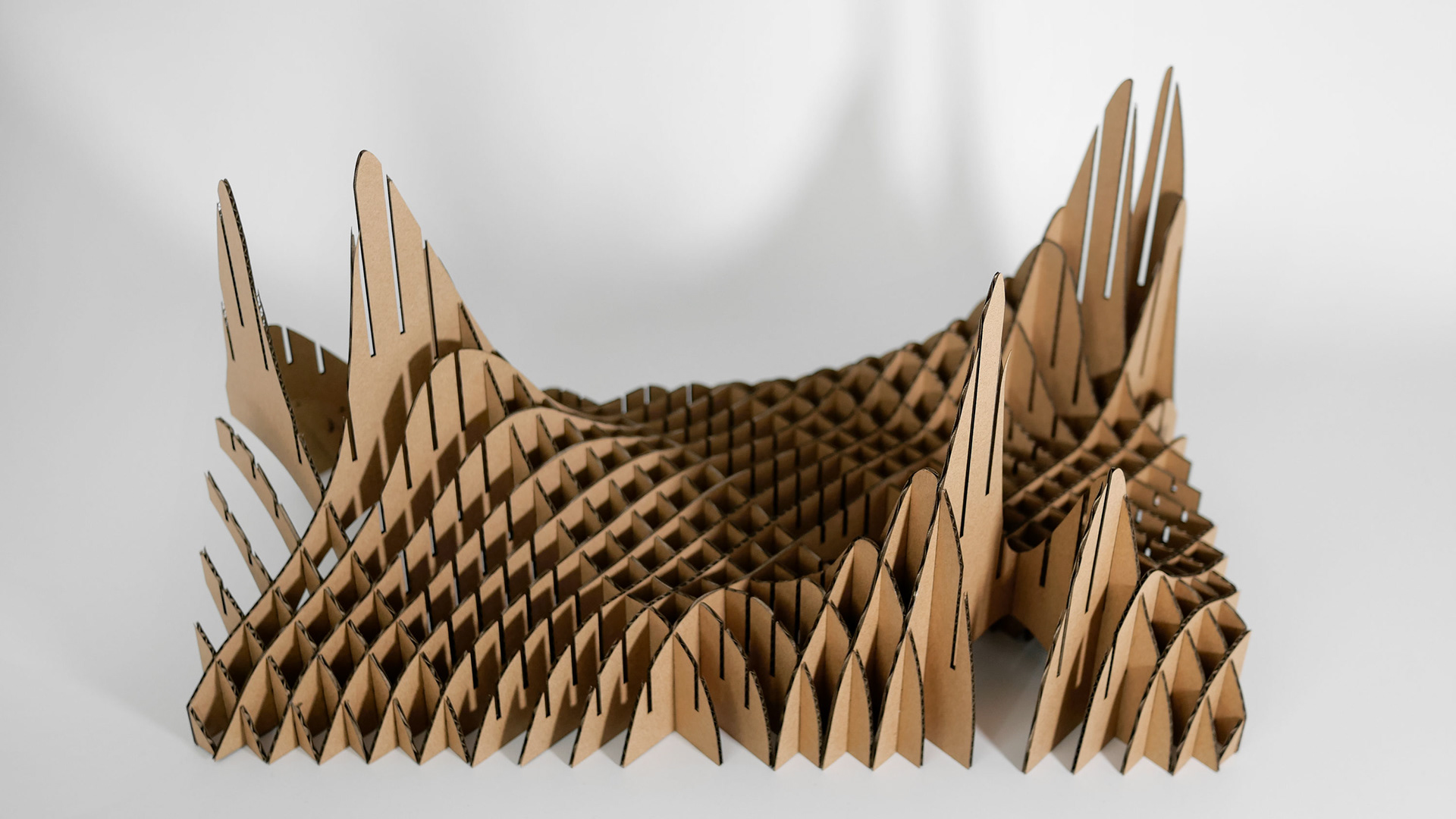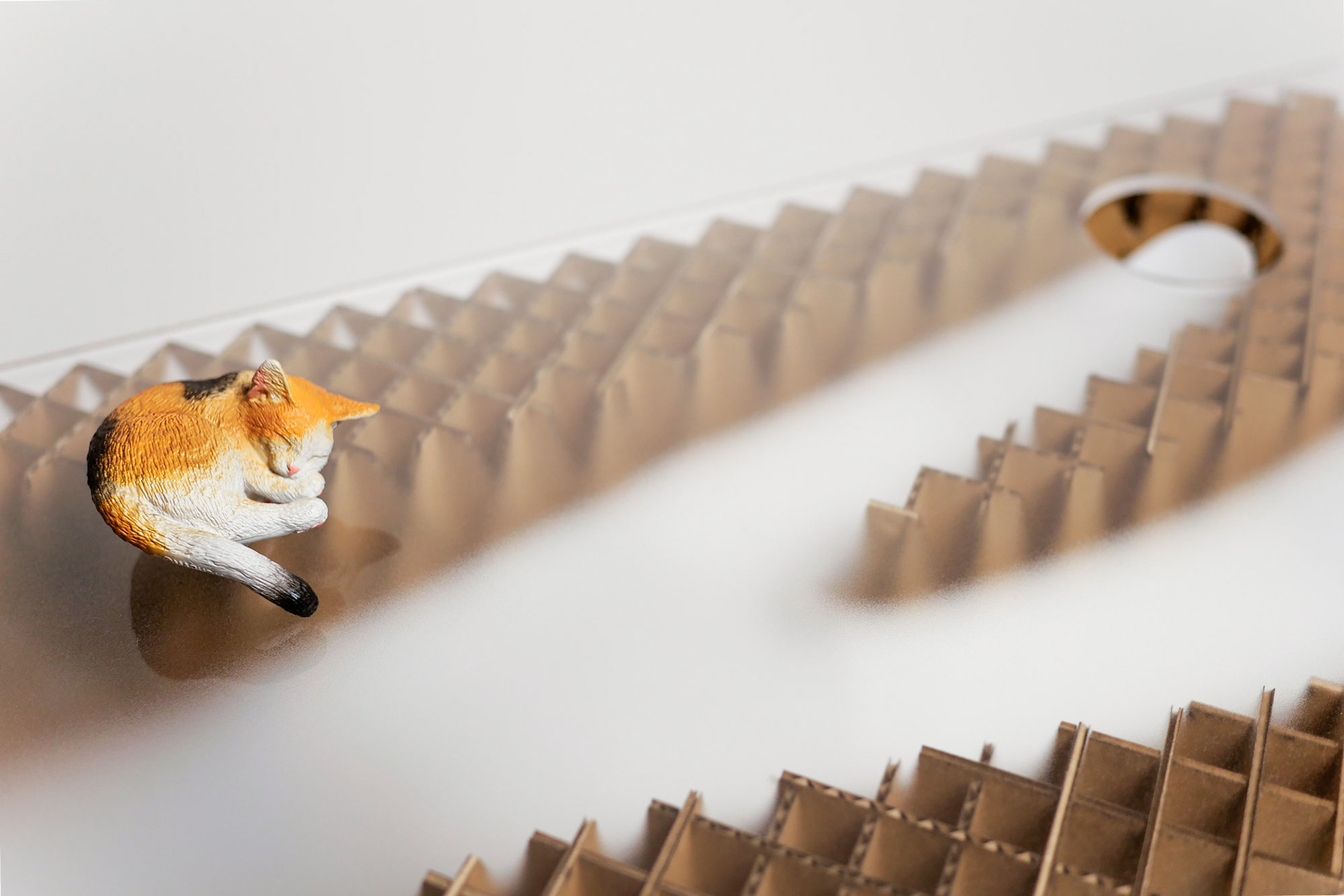 Due to the small size of our room, we had to assemble our 1:1 presentation prototype on the rooftop. However, we encountered some difficulties during the process. For example, the thickness of the cardboard we received did not match the nominal one, making it difficult to fit perfectly with each other. Furthermore, the slots on the cardboard should have been slightly wider to make assembly easier.
Despite these challenges, the prototype's solidity and appearance exceeded our expectations. We had been worried that it would not be stable enough as it was too light, but after putting a tempered glass tabletop on it, we found that this was not an issue.
After assembly, our cat, Wu Bao, tried out the Cat Mountain Table. It was a little nervous at first but quickly became curious about the new addition to the room! Moving forward, we will continue to improve the design and conduct more comprehensive usability tests.